Custom reflective tape is a type of tape that is designed to keep workers safe in low light and adverse weather conditions. Finding a reliable reflective tape supplier is essential in order to save money and resources in the long run, regardless of whether you run a company that sells safety workwear or whether your company consists of workers.
The most effective reflective tape for clothing is not the same as elastic reflective fabric or reflective thread, despite the fact that there are many different kinds of reflective fabric available today. It is very unusual for someone to order a personalized safety vest as well. When you order reflective tape from a local retailer, the price you pay is approximately 300% higher than the price you'd pay directly from the manufacturer.
In addition to this, wholesalers are able to create bespoke products precisely to your requirements, right down to including the logo of your brand in the design. However, collaborating with a reflective tape manufacturer based in China or anywhere else in the world is no walk in the park.
When looking for the best factory to produce reflective tape, you will need the assistance of several trained professionals. In that case, you run the risk of receiving hundreds or even thousands of products that do not meet your requirements and are either defective or of poor quality.
Do not throw away money; instead, continue reading to learn how to locate a manufacturer for reflective material tape that is used for clothing, the specifications that you should add to your order, the list of essential questions to clarify with your supplier, how to choose the best manufacturer, and ways to thoroughly check the samples.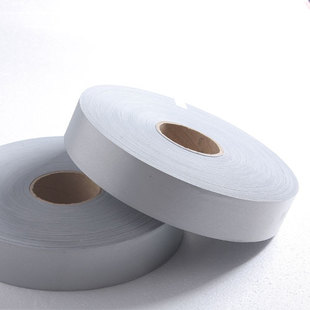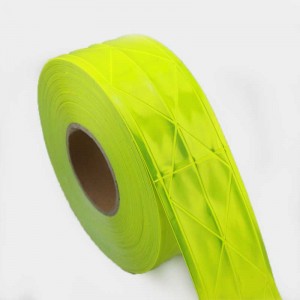 Features To Add On Your Reflective Tape Order
When ordering reflective tape directly from the manufacturer, it is imperative to utilize all available services to produce the best product.
Below are the considerations to keep in mind when doing so.
Color: For the hi-visibility tape for clothing, you can choose from Silver, Grey, Red, Green, Orange, Yellow, and White. Another option is to create your own unique color combination by combining multiple colors.
Logo: Advise or instruct the manufacturer as to where the logo of your business or construction company should appear on the safety apparel you're ordering. Often referred to as branding services, you can have your logo embroidered, sewn, or stitched onto your preferred reflective tape roll.
Backing Fabric: Ensure that you have a thorough understanding of the backing fabric used for the reflective tape. Depending on your needs, you can typically select one or more fabrics such as 100% Polyester, TC, PES, TPU, cotton, aramid, and stretchable fabric.
This is one of the most crucial aspects of customizing your own reflective tape. Make sure to also request the appropriate width and length for the tape.
Reflectivity: This is the tape's photoluminescence ability to reflect light, making the wearer highly visible from the source of light. For instance, silver reflective tape has up to 400CPL, grey reflective tape has 380CPL, etc.
Washing Performance: Seeking tapes that meet ISO6330 standards for household washing, ISO15797 standards for industrial washing, and ISO3175 standards for dry cleaning.
Attachment Type: Specify how you would like the reflective webbing tape to attach to the material it will be applied to. Among the alternatives are adhesive, sew-on, and heat transfer vinyl. Today, speak directly with the manufacturer for clarification.
---
Post time: Nov-23-2022