Reflective tape is a type of tape designed to be highly visible in low light conditions. It is commonly used in vehicles, bicycles, helmets and other safety equipment to improve visibility and prevent accidents.
Reflective safety tape works by bouncing light back toward the light source, making it easier for drivers and pedestrians to see the objects it's attached to. This is especially useful when driving at night, in fog or in low-light areas.
Secondly, about the reflectiveness of the reflective strip. Generally speaking, the reflective degree can be divided into three grades: ordinary bright, high bright, and bright silver reflective tape. The reflected light range of ordinary bright reflective strips is about 5 meters to 100 meters, the reflected light range of high-brightness reflective strips is within the range of 150 meters to 500 meters, and the reflected light range of bright silver reflective strips is above 380 meters.
Reflective tape comes in a variety of colors, but the most common is silver or gray. It is also available in different widths and lengths, and can be cut to different sizes and shapes as required.
In addition to being used for safety purposes, reflective tape can also be used for decorative or promotional purposes, such as adding branding or logos to clothing or accessories.
Overall, reflective tape is an affordable and effective way to improve visibility and prevent accidents in low light conditions. It's easy to use and can be applied to a variety of surfaces, making it a versatile tool for anyone who wants to stay safe and visible.
T/C, PVC, polyester, cotton, and other materials are used to make a variety of TRAMIGO's professional reflective fabric products. This includes reflective woven elastic ribbon, reflective woven tape, reflective vinyl strips, and reflective micro prismatic tape and so on. If you're looking for specialized reflective tape fabrics that are appropriate for use in industrial settings, TRAMIGO can also offer you expert product solutions. Flame-retardant reflective tapes and waterproof reflective tapes are a couple of examples of these tapes.
NINGBO TRAMIGO REFLECTIVE MATERIAL CO.,LTD. was established in 2010, which means we are in the garment accessories business for over 10 years. We are engaged in the design, development,manufacture and sale of highly specialized engineered reflective tape. Our products sells well in South America and the rest of the world, such as America, Turkey, Portugal, Iran, Estonia, Iraq, Bangladesh etc.  We are specialized in the production of reflective material, and some reflective products can reach the international standards as Oeko-Tex100, EN ISO 20471:2013, ANSI/ISEA 107-2010, EN 533, NFPA 701, ASITMF 1506, CAN/CSA-Z96-02, AS/NZS 1906.4:2010. IS09001&ISO14001 certificates.

Frequently Asked Questions
Yes, small order is also welcome.
We provide 2 meters free sample for quality review ,freight collected.
Sample leadtime:1-3days , Customized product: 3-5days.
Bulk order: around 7-15 days.
you can make online orders, we have many cooperated forwarders for fast delivery.
Yes,We offer favorable price if order qty above 2000 sqm, Different price based on order qty.
We guaranteed 100% refund if any quality problem.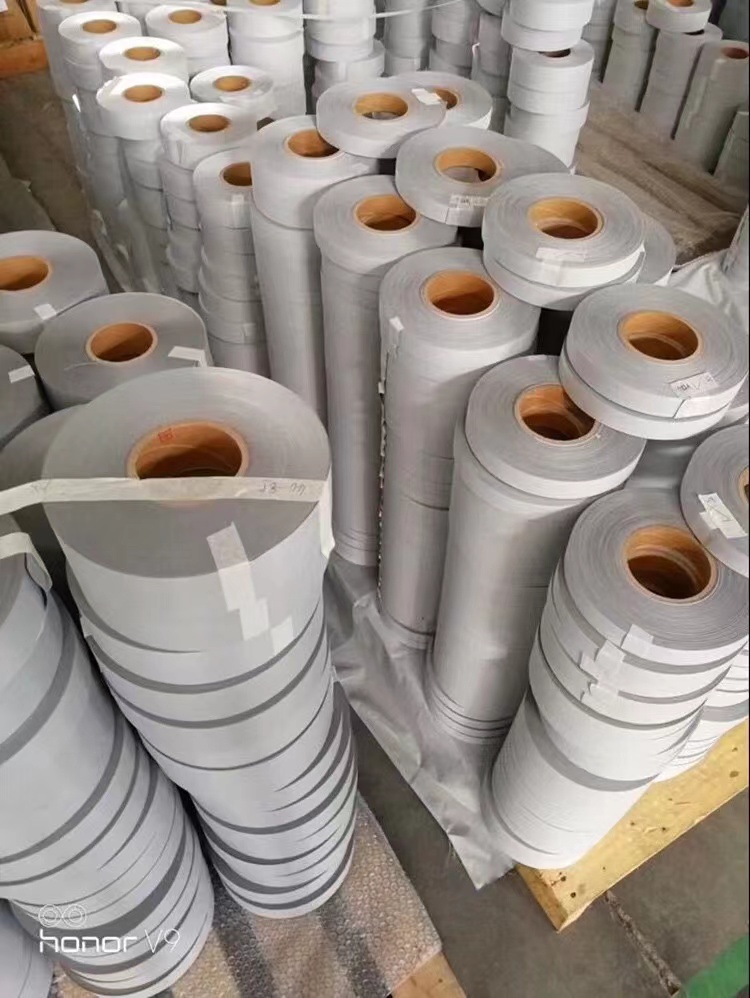 Application of reflective tape
Reflective tapes are used in a variety of applications to improve visibility and enhance safety. Here are some common application scenarios for reflective tape:
1. Road safety: Reflective tape is widely used in the road safety industry to improve the nighttime visibility of various vehicles and road signs. The tape reflects light from headlights, making it easier for drivers to notice objects on the road. In this case, yellow or white reflective self-adhesive tape is generally used.
2. Fire Safety: Reflective tapes are often used in the design of firefighter gear, helmets and other equipment to improve visibility and recognition in low-light conditions for quick response.Reflective tape is commonly used. Red, silver gray or yellow reflective tape is generally used on firefighter uniforms.
3. Clothing design: Reflective tape can be used to increase the decorative effect and improve the uniqueness and fashion of clothing. Reflective tape is used in sportswear, outdoor gear and casual wear to improve visibility and safety in light conditions. In this case, high-visibility reflective tape is usually used, which can reflect light to some extent, but not necessarily retro-reflective.
4. Industrial Safety: Reflective tapes are used in industrial environments such as factories, warehouses and construction sites to improve visibility and reduce accidents. Here, high-visibility reflective tape is often used.
5. Daily use: Reflective tape is also used in everyday items such as backpacks, dog collars, and bicycle helmets to improve visibility in low-light conditions. In this case, high-visibility reflective tape, which reflects light to a certain extent, is usually used instead of reflective tape. In addition, in other industries and life scenes, reflective tapes are also widely used. For example, on construction sites, reflective safety tapes can be selected in different colors and widths according to needs, and can be used in conjunction with hard hats, overalls, etc. In night camping activities, reflective Marking tape can be used to mark the location of the camp and improve the visibility of campers. In sports venues, reflective tape can be used to assist athletes in training and improve safety.
To sum up, the application range of reflective tape is very wide, and the type of tape used depends on the specific scene and the level of reflectivity required. In different scenes, according to the specific use needs and environmental requirements, you can choose reflective tapes with different colors, widths, materials and reflective effects. For example, for road safety and fire safety, reflective tapes with high reflectivity, wear resistance and heat resistance are generally used; while in clothing design and other life scenes, appropriate reflective tapes can be selected according to design requirements and aesthetic requirements Material and color.